Main content starts here, tab to start navigating
THE

MENUS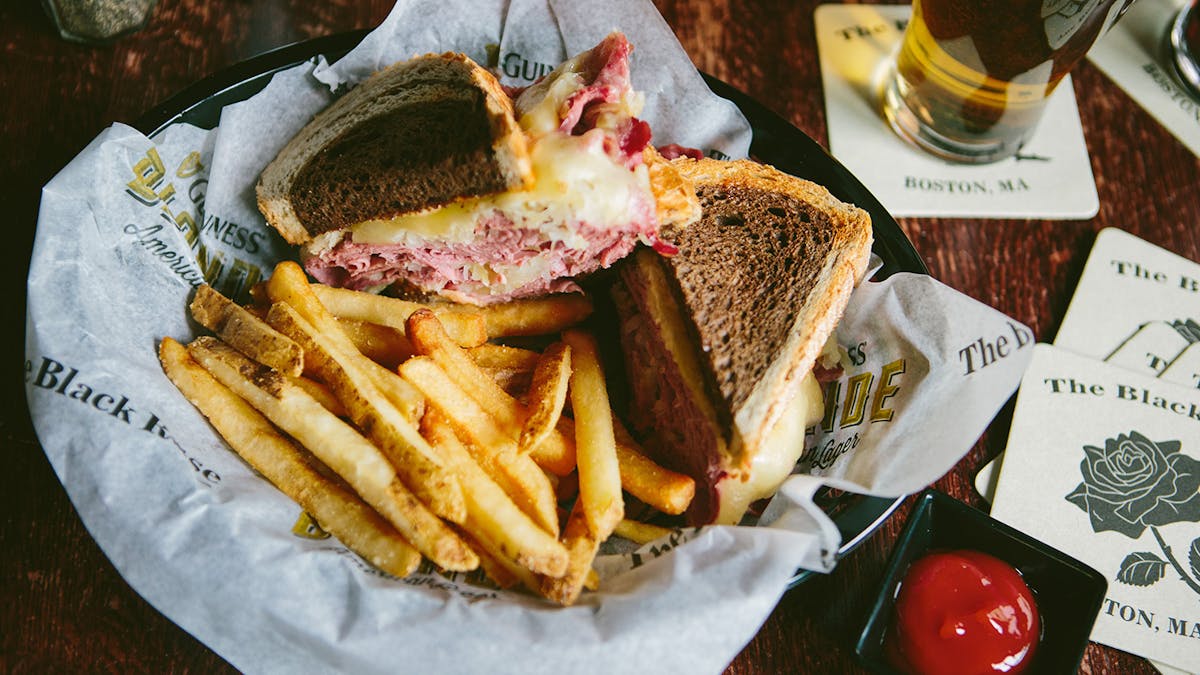 Slide 1 of 6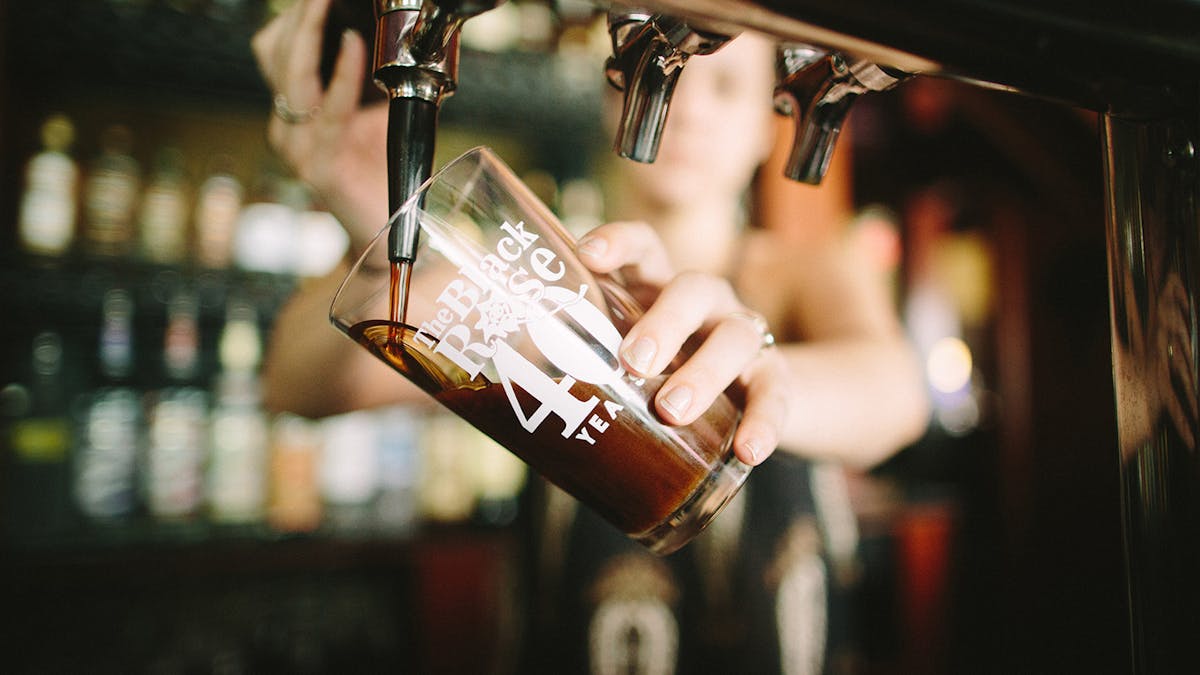 Slide 2 of 6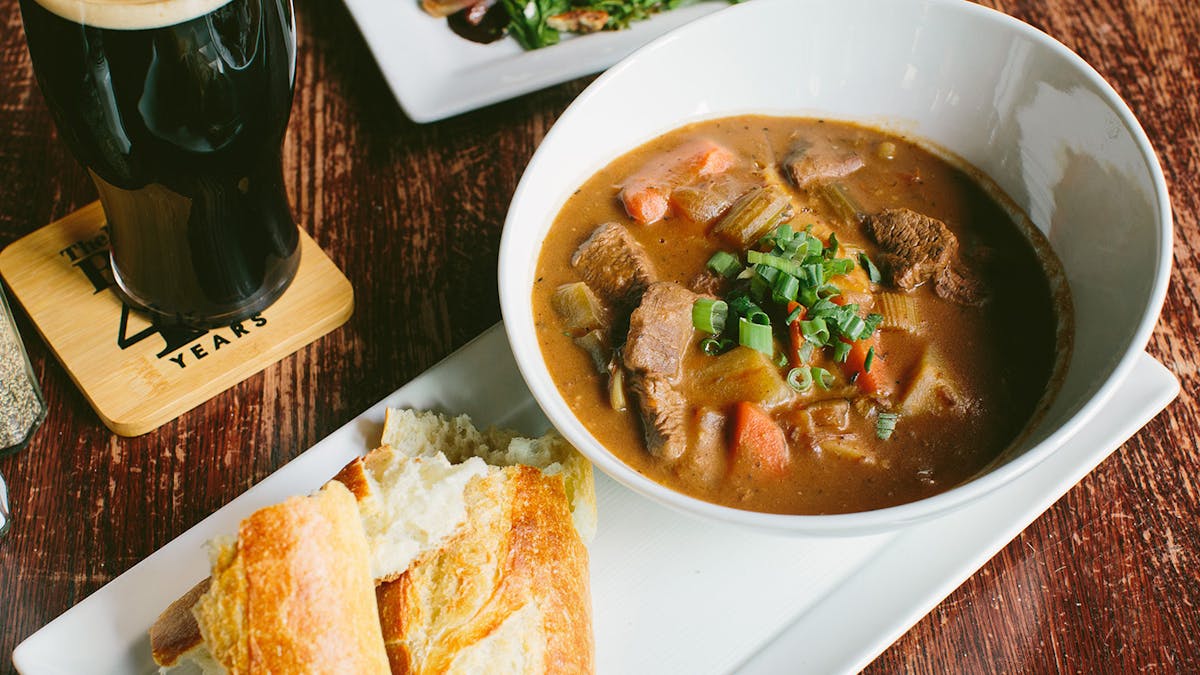 Slide 3 of 6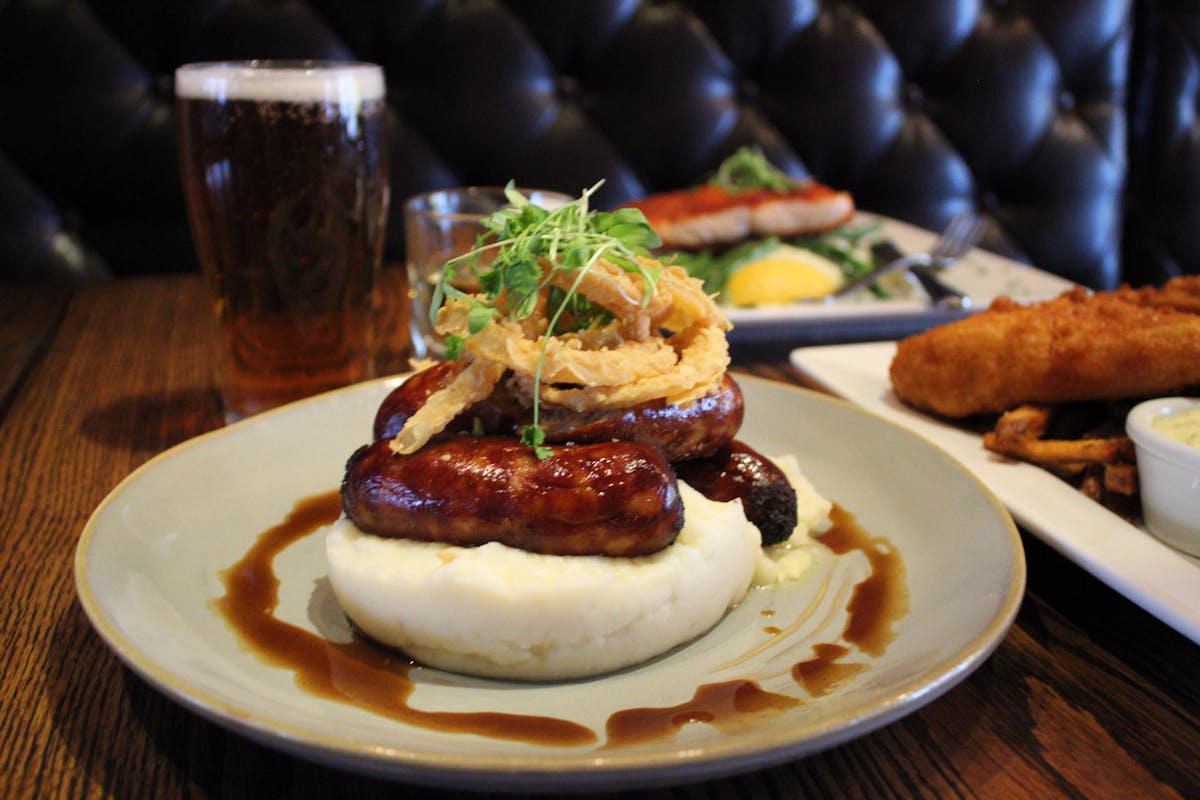 Slide 4 of 6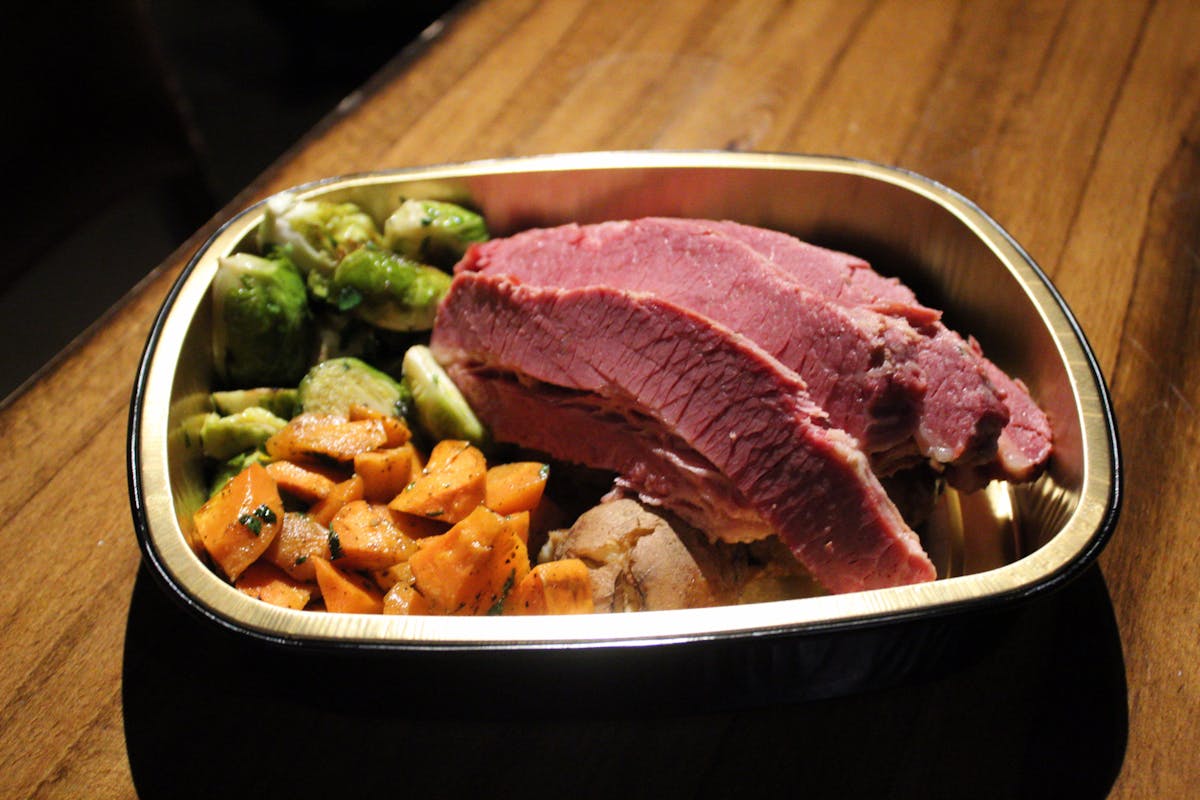 Slide 5 of 6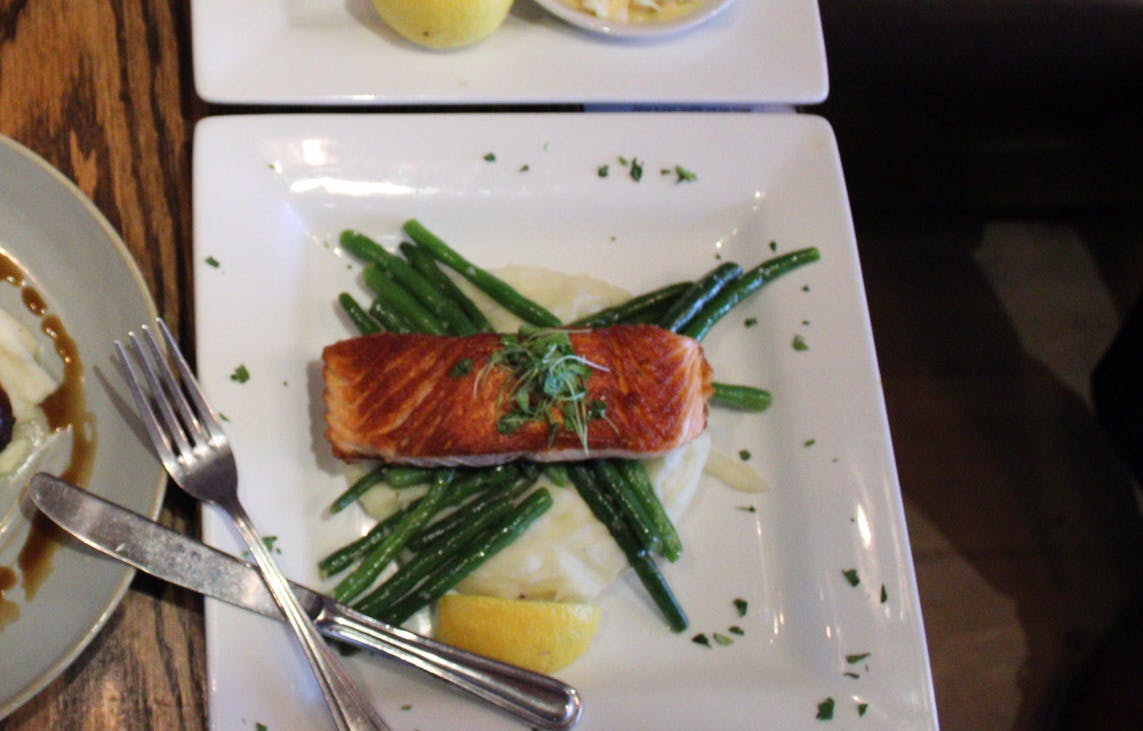 Slide 6 of 6
Served Saturday & Sunday
10:00am to 12:00pm
Full Irish Breakfast $16
Rashers, Bangers, Black & White pudding, Eggs,Grilled Tomato, Bachelor's Baked Beans and toast.
Corned Beef Hash

Our famous Corned beef hash topped with eggs. Served with tater tots & your choice of toast

$14

Breakfast Roll

Rasher, Banger, Black & White pudding & scrambled egg on Brioche

$12

Omelette

Tomato, onion & mushroom served with tater tots and your choice of toast

$12
Don't forget to a Pint of Guinness or Jameson Irish Coffee
Appetizers
Black Rose Spring Rolls

Corned beef, brusslekraut, swiss cheese with Roisin Dúbh Sauce

$14

Jameson Wings

Jameson Irish Whiskey glaze, sesame seeds & blue cheese dip (available Buffalo or dry with sea salt & pepper)

$14

Sausage Rolls

Irish Bangers in puff pastry, coleslaw & spicy mustard

$14

Chicken Tenders

Crispy double breaded with wholegrain honey mustard (available with buffalo sauce or with Jameson Glaze)

$14

Brewhaus Jumbo Pretzel

Served with Beer Cheese & Spicy wholegrain mustard

$12

Clam Chowder

Award winner Boston Chowder fest. Clams, Bacon, potato & Dill.

$7

$10

Curry Chips

A favorite from chippers throughout Ireland

$10
Salad
Add Chicken 6, Steak 10 Salmon 10 to any salad
Cobb Salad

Romaine, tomato, egg, red onion, avocado, Cashel blue cheese, smoked bacon

$14

Beet Salad

Arugula, goat cheese, toasted pumpkin seeds, champagne vinaigrette

$14

Caesar Salad

Crisp romaine, parmesan cheese, brioche croutons, classic dressing

$12

Add Chicken 6, Steak 10 Salmon 10 to any salad
Sandwiches & Burgers
Lobster Roll

Brioche roll, cold with citrus mayo & fresh parsley or hot with drawn butter

$36

Roisín Dubh Club

Oven roasted breast of Turkey, bacon, mayo, lettuce, tomato & toasted multigrain

$16

Celtic Chicken

Grilled chicken breast, Guinness onions, Jameson Glaze & melted cheddar

$16

Reuben

Boston brisket corned beef, sauerkraut, swiss cheese, Roisin Dúbh dressing, grilled rye bread

$16

*Pub Burger

Custom blend, Jameson glaze, cheddar cheese, Guinness onions, rasher of bacon LTOP(on request)

$18
Entrees
Fish & Chips

Local scrod, pub fries, coleslaw, homemade tartar sauce & lemon

$18

$24

*Bangers & Mash

Guinness & Leek sausages, Magners Gravy & mashed potatoes

$18

Shepherd's Pie

Ground beef, peas, carrots & onions with piped potatoes

$18

Guinness Beef Stew

Braised beef, root vegetables & potatoes simmered in a Guinness broth

$18

Gaelic Sirloin

Cooked to order with Jameson Glaze, served with sauteed mushrooms & mashed potato

$32

*Grilled Salmon

Mashed potato & sauteed vegetables

$28
*Cooked to order. Consuming raw or undercooked meat, seafood or shellfish may result in certain foodborne illnesses, particularly those suffering from certain medical conditions.
+Before placing your order please inform your server if anyone in your party has a food related allergy
Coffee Drinks
Jameson Authentic Irish Coffee

Jameson Whiskey, Demerara sugar, fresh cream, hot coffee & grated nutmeg

$12

Black Rose Iced Irish Coffee

Jameson, Baileys, Cold Brew & Whipped Cream

$12

County Meath

Slane Irish Whiskey, Baileys Irish Cream, coffee with whipped cream and a Cream De Menthe float

$12

County Galway

Bushmills Irish Whiskey, Amaretto, coffee and whipped cream

$12

County Cork

Jameson Cold Brew, Baileys Irish Cream, coffee and whipped cream

$12
Cocktails
Tully Margarita

Ghost Tequila, Grand Marnier, Pickily Pear and Lime, shaken and served on the rocks.

$10

Whiskey Palmer

Bushmills Irish Whiskey, 1/2 Lemonade, 1/2 Ice Tea

$10

Bourbon Spritz

Bourbon, Aperol, Lemon Juice topped with Prosecco.

$10
Draft Beer
Black Rose Celtic Red

Traditional Irish Red Ale brewed by Harpoon especially for The Black Rose

$8

Guinness

Stout

$9

Magners

Cider

$9

Jack's Abby Shipping Out of Boston

Amber Ale

$8

Bass

Pale Ale

$7

Harpoon Original

IPA

$7

Lagunitas

IPA

$8

Carlsberg

Pilsner

$8

Stella

Lager

$8

Downeast Cider

Unfiltered Cider

$8

Blue Moon

Witbier

$7

Bud Light

Light Lager

$6
Bottle Beers & Canned Cocktails
Allagash White 16oz

$9

Harpoon Hazy IPA 16oz

$8

Bud Light 16oz

$6

Budweiser 16oz

$6

Michelob Ultra 16oz

$6

Heineken 12oz

$7

Miller Lite 12oz

$5.50

High Noon Mango 12oz

$8

Weihenstephaner Hefe 16oz

$8
Rose
Charles & Charles

Columbia Valley, WA

$12

$46
White
Folie a Deux Chard

Russian River, CA

$12

$46

Santa Maria Pinot Grigio

Veneto, Italy

$10

$38

Villa Maria Sauvignon Blanc

Malborough, NZ

$10

$38
Red
Joel Gott Cab Sauv

Napa, CA

$12

$46

Catena Malbec

Mendoza, ARG

$11

$42

Three Thieves Pinot Noir

Coastal, CA

$11

$42

Menage a Trois Merlot

Coastal, CA

$10

$38
Irish Whiskey's
Bushmills

$9

Bushmills 10yr

$12

Bushmills 16yr

$21

Bushmills Red Bush

$9

Connemara 12yr

$18

Jameson

$10

Jameson Black Barrel

$10

Jameson Caskmates IPA Edition

$10

Jameson Caskmates Stout Edition

$10

Jameson Cold Brew

$10

Knappogue Castle 12yr

$12

Knappogue Castle 14yr

$16

Knappogue Castle 16yr

$21

McConnells

$25

Midleton Barry Crockett

$50

Midleton Dair Ghaelach

$54

Midleton Very Rare

$55

Paddy's

$8

Powers

$8

Redbreast 12yr

$18

Redbreast 15yr

$28

Redbreast Lustau

$18

Slane

$8

Teelings Single Cask

$10

Teelings Single Grain

$12

Teelings Single Malt

$14

Tyrconnell 16yr

$21

Tyrconnell Single Malt

$8

Writers Tears

$15

Yellowspot

$25
Scotch
Dewars

$9

Glenlivet

$12

Johnny Walker Black

$12

Balvenie

$12

Aberlour

$15

Laphroig 10yr

$16

Oban

$18

Balvenie 14yr

$18

Lagavulin

$20

Macallan 12yr

$22

Macallan 18yr

$55

Laphroig Lore

$36
Bourbons' & Rye
Bulleit Bourbon

$11

Bulleit Rye

$11

Hudson Rye

$11

Makers Mark

$10
Non Alcholic
Red Bull

Regular & Sugar Free

$4

Athletic Brewing Upside Dawn 12oz

$7

Athletic Brewing Run Wild IPA 12oz

$7
Served with Juice or Soda and a hoodsie cup for dessert
Kids Menu
Chicken Tenders & Irish Chips

$8

Grilled Cheese & Irish Chips

$8

Little Bangers & Irish Chips

$8

Kids Burger & Irish Chips

$8

Little Caesar Salad with Chicken

$8